Dear Mr. Leger -

The swing I ordered arrived today. I can't tell you how happy I was to get it.I'm
the sort of person who can't stare at a sealed box so I opened it up right away.

It was so easy to put together I had it up in about a half hour. You do the most
beautiful work Mr. Leger and I wanted to write and thank you again.

​
Nancy P. Dunavan



Dear Ted

Thanks very much for your quick response. You have a great product and my parent's love their new swing.

Roundbottom Swing - 5 foot With cupholder arms
On November 3, 2007, porchmonkey Hot Springs National Park, AR wrote: The swing I ordered from porchswings.com was flimsy, even though the description on the website said it was a sturdy swing. I was worried about this because, to be honest, my wife and I are a little on the heavy side. I ultimately returned the swing to them and got my money back (minus shipping, of course). I found another web site porchswings.us(which is my other website in addition to this new one) that offered sturdier looking swings and I bought one. The guy makes them himself, and I don't think you could break this swing if you tried! I would not recommend porchswings.com to anyone.

I actually found the above testimonial on another website called davesgarden.com
Here are a few pictures of the swing. We have it set up on our deck with a
pergola. It is facing west because we have great sunsets. Thank you for a great
swing and for all you did...so fast. (We have far less of a gap now between the back and bottom. This is one of the rirst swings that went out in the picture below. We have since revamped the design.)
I recieved our swing today and had it together in about 20 minutes! We love it!!!!!! Thank you.

Phyllis Smith
Jackson, GA
Hi Ted:
My new swing is here, it's hung on the first floor deck under the veranda, and I have tried it out. Thank you also for three linnks of chain more than I needed, so I can sit and swing rather than running to Lowe's on Sunday. It looks great. It feels strong and smooth and wonderful. It "sits" like I dreamed it would. It even smells good. I am 100% satisfied, and even more grateful. God Bless you, and your family. I'm telling anyone who'll listen about my swing you made me, and won't hesitate calling you for something more as soon as I think of what it might be!

Very Best,
Edric Koerner
Unicoi, Tennessee

The swing arrived and has been hung. I am pleased with the quality. Thanks, Greg Dickson


I recieved our swing today and had it together in about 20 minutes! We love it!!!!!! Thank you.

Phyllis Smith
Jackson, GA
Ted:
We recieved the swing and put it up on our front porch. It is really beautiful and we love it. -Robert Zelensky

We received our swing yesterday and are extremely happy with it! It couldn't be nicer. My wife and I spent a good part of the evening relaxing on it with a glass of wine.

Eric Roth Cincinnati


This is to let you know that the swing is great. My wife, a obsessive swinger, is very happy. I ended up staining it redwood and then coating it with urethane (4coats) and it looks great. You do good work.

Thanks, Larry
The flip down swing fit nicely in my garden area. Thanks! - Mike Miller

Hello,

I've recently received a porch swing, which I purchased from you. Just wanted to let you know it is everything as advertised and I am extremely happy with your work. I won't hesitate to recommend your products to others. Thank you,Nancy Lemieux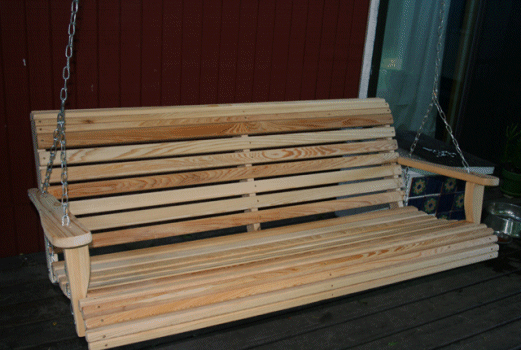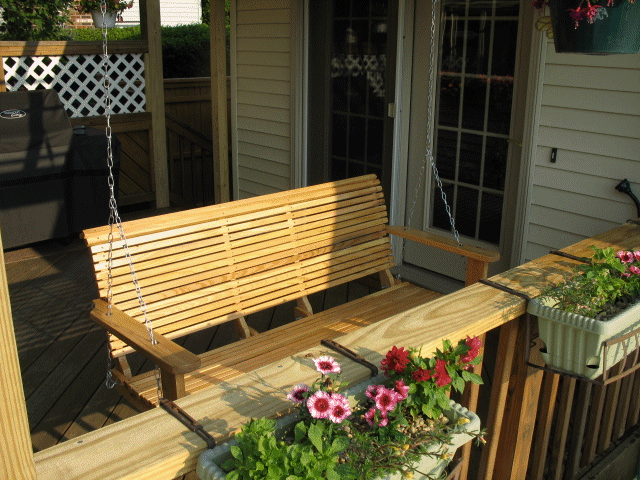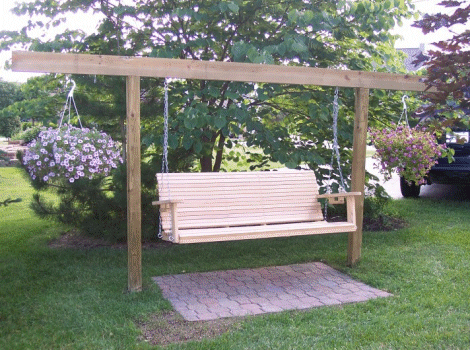 Hi Ted!!!!

Oh my, the swing came today! It is gorgeous. I just love it. We are going to assemble it tomorrow and hang it on the porch. It far exceeds my expectations. Your craftsmanship is really great. This swing is solid and I LOVE the cup holders! What a great idea. We are already fighting over who gets to use the cup holders first! I'm sure I'll win this battle! HA! Thank you so much for the swing.

Susan






Swing below is a 4 foot rollback with cupholder arms
5 foot rollback with flipdown cupholder and cupholder arms
Hi Ted,

Just wanted you to know we received the beautiful swing today. It is even better than we thought it would be…..better than the pictures! When neighbors ask us about it when they walk by we will be sure to recommend you and your company .

Sincerely,

Gary and Ryan Bucek
We received our Rollback swing around 5:30 today and we couldn't be happier. The craftsmanship and quality is better than we expected. Thanks again for expediting the order for us and keeping in touch.


Liz and Roger

Hi Ted,

Wanted to let you know we received our swing yesterday. We put it together right away, hung it, and sat in it. The swing is very comfotable and we love it. We look forward to many years of using the swing. We appreciate your diligence and help getting the swing to us. Thank you very much.



The Lehrs


Hi Ted, (This Swing was a Gift to their daughter)

Cleaning out my inbox and realized we'd never said thanks! Sarah's swing arrived in good time and she's thrilled with it. So thank you!

Blessings,

Julie


We received the swing yesterday. Thank you so much it is beautiful and will be a blessing to our home.

Karen
ROLLBACK WITH FLIPDOWN CUPHOLDER IN THE MIDDLE
Ted

I wanted to let you know, that I have received the swing, and am very pleased with it. I can't wait to get it put together, and start using it.

Thank you
Cheryl Dayhuff



4 FOOT ROLLBACK WITH CUPHOLDER ARMS

.
5 foot Rollback with 5 coats of Urethane
The swing to the left is the roundbottom swing. This is a picture the customer sent me, and they added this comment:

Ted,

My husband & I assembled the swing this morning & had some Hellers hang it for us this afternoon. I love it!! Thanks again.

Nancy Sterling

Our porch swing arrived today and we love it! We put it together and enjoyed! Your work is fantastic and we will enjoy for years with our grandchildren and each other! Thank you!

Patrice Baustin
Dear Ted,this is Ron from NC.Your swing arrived today and me and my little bride of 35 years have already enjoyed using it.It is GREAT QUALITY.We will enjoy it for many years to come.THANK YOU for the QUALITY work.It is more than just a swing to us.We
have spent many wonderful hours swinging and talking through the years at this location in our back yard.I will recommend you to everyone in the market for a quality porch swing.THANKS AGAIN,

Ron Williams

Hello Ted,

We received your porch swing. It is painted and hanging now. It looks so great and has added a great element to our family life. Very nice good craftmanship. Thank you so very much.
​
Kind regards, Rosa


We love our swing! Thank you! I will send a photo next week, so you can see it's new home on our back porch. We have very high ceilings! But it works out so beautifully! Good job!! This is just what we wanted for our 40th anniversary.

Sue Case

Battle Creek, Michigan



I would like to let you know I got my swing Thur. and I husband got it hung for me today!! I would like to let you know how much I love it. You did a great job on it!!!!! Thank you so much!! Thank you for all your heard work and for the lovely swing I could not have asked for anything any nicer!!!!! Thank you

Kathy Conn

Ted,

We LOVE our six foot swing! I received a lot of compliments on it at the Church Homecoming Picnic held in our backyard this past Sunday. I am so glad we purchased the springs......makes a difference in getting up and sitting down.

After my husband added the Minwax, the color of the wood really looks warm and inviting. He plans to move it inside to hang in his workshop during the winter so he can keep on using it during cold weather.

Your workmanship is excellent and we are looking to many more years of enjoyment.

Thank you so much!

Nelda Skinner
(THIS TESTIMONY IS FOR THE SWING BELOW ON THE LEFT):

​Ted,Thank you for all your help, the swing is great!! - Ray Raftery